Nearby Attractions
How to get to the hotel
From the airport
An authorized taxi or transfer van is easy, safe and reliable. We recomend using Taxi Oficial or Transvip and you pay at their counter in the airport, after clearing customs. USD 35.00 (CLP $ 18.000) for a taxi or USD 12.00 (CLP $ 5.700) per person in the (shared) transfer. TurBus and Centropuerto are bus lines that will take you to the Subway for USD 3.00 (CLP $ 1.500). See below under SUBWAY to get to the Hotel.
From intercity bus and train terminals
It is very easy to reach us since there is direct access to Subway stations. See below.
From subway (Metro) nearby stations
The Hotel Santa Lucia is only two blocks from the "Plaza de Armas" subway station on line 5 and four blocks from "Santa Lucia" subway station on line 1, where you exit and walk North by the National Archive & Library along Miraflores St. till you reach paseo Huerfanos (promenade) and make a left and in the second corner, with San Antonio St., you will find us on the right at st. number 779. There is marble local pottery inlays in the shopping arcade floor accessing the Hotel. Using the Plaza de Armas subway station will imply changing lines at Baquedano station. When you exit the Plaza de Armas station walk South one block along Estado St., a pedestrian promenade, and make a left turn to the East along Huerfanos where you will be facing the Hotel in the next corner with San Antonio St.
By car
It is very convenient to use our self-parking facility at Miraflores St. 418, only two blocks from the Hotel. Kindly click here for a online map that will guide you from where you are now in Santiago to the Hotel parking and please contact our front desk at +56226398201 to let us know of your arrival and clear your car's access into the parking itself with directions how to proceed by ramps up to the 4th. floor to the Hotel Santa Lucía parking.
Please review the following map for instructions on how get to the hotel avoiding tickets for driving on bus only streets in downtown Santiago.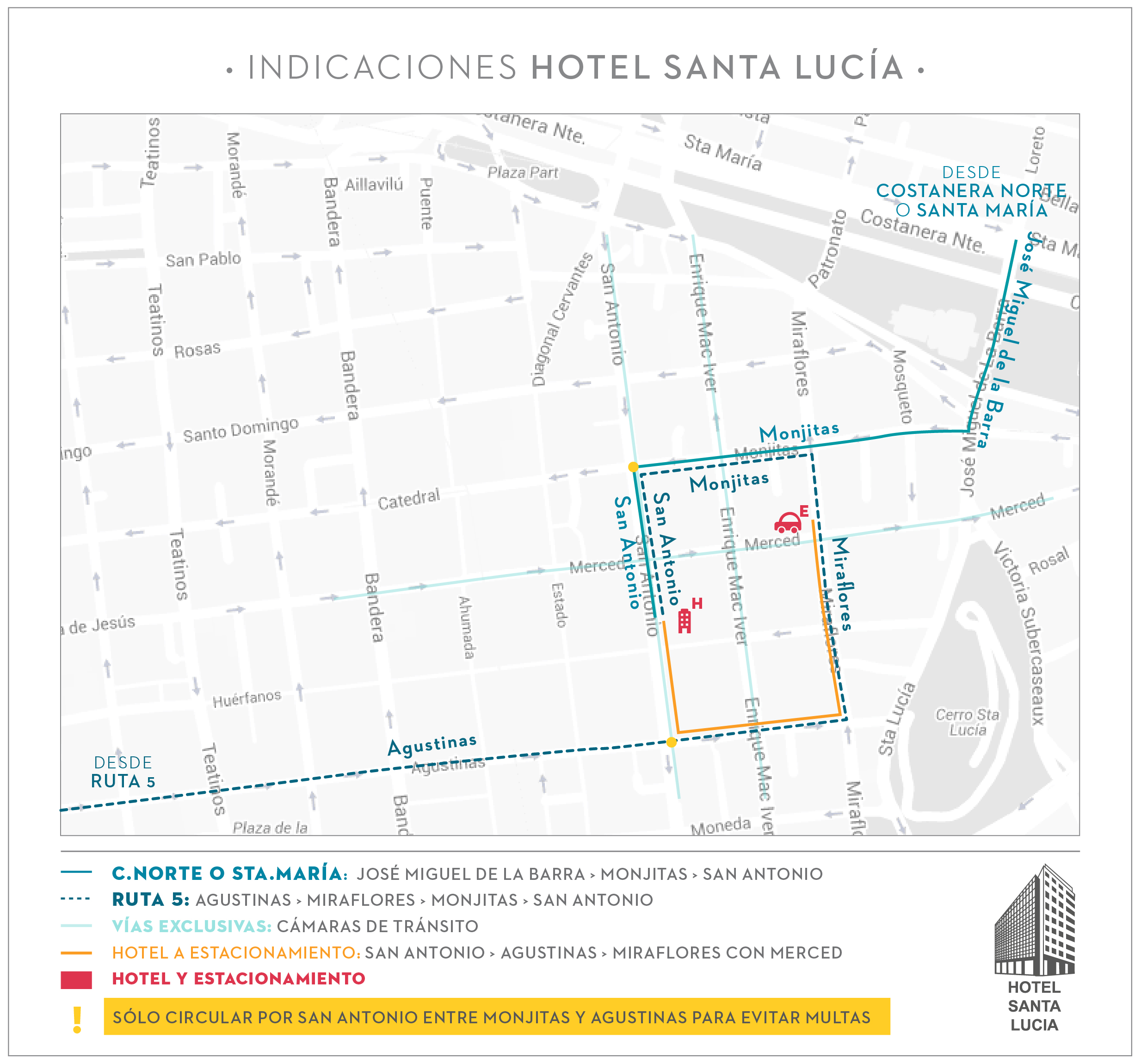 ---